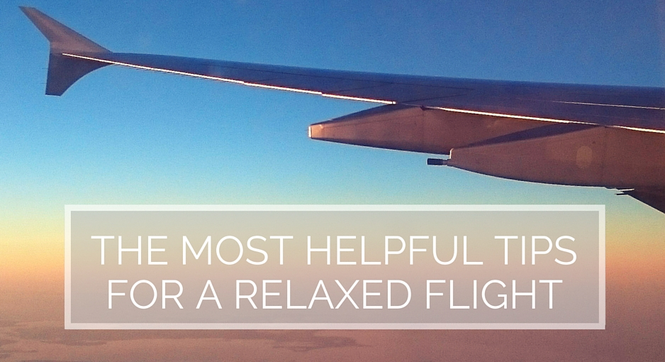 Traveling is great - but sometimes a flight can also be very exhaustive, especially if it's a long-distance flight.
Read my tips for having a relaxed flight, what to put in your hand baggage and how to find the best seat in your aircraft. 
---
---
1. The Web-Check-In is worth its weight in gold
Most airlines do provide a cost-free online check-in about 24 to 30 hours before your aircraft leaves. Use this service to ensure yourself a comfortable seat, so you only have to print your boarding card (or send it to your mobile phone) and leave your baggage at the baggage drop-off at the airport-counter. 
2. If you have a choice - book on a unusually flight time / flight day.
If you like to go on vacation and you are a little flexible, choose a flight during the week. Most journeys begin at the weekend, so flights during the week are not only cheaper but you can also be lucky to have more free seats. This means: I already experienced a few times to have a whole row on my own! 

Many frequent flyer do also swear that unfavourable flight times go with more space because of empty rows. Tuesday-evening should be particularly unpopular. 
3. Choose the best seat! 
On websites such as Seatguru.com you can have a look on the cabin maps of nearly all aircrafts of the different airline companies. Check out, which seats are not that comfortable (no window, next to the bathrooms, backrest not movable...) and then use your online check-in to choose one of the better seats. 
Whether you like more to sit next to the window or next to the corridor is your personal choice. I like to look out of the window, but especially on a long-distance flight it can also be more comfortable to sit next to the corridor to have better opportunities to get up during the flight. 
4. Choose on of the back rows!
Airline companies work like this: If they do the check-on for their passengers, they will place them from the front to the back. This means, that it's more likely to have free rows in the back of a not fully booked flight.
If you directly choose one of the back rows for yourself, your chance to have a free seat next to you is much bigger than sitting in the front of the airplane. 
Don't worry about being one of the last ones who will exit the airplane after the flight. You have to wait a little longer but the others one's will only stand in front of the backage carousel - also waiting! 
5. Take a small carry-on luggage with a handbag inside for hand luggage!
I got used to take a hand-luggage-suitable case for hand luggage and to put a small handbag in it. During the flight, I can put all necessary stuff (mobile phone, headset...) in the small handbag and put the bigger case into the storage compartments to have much more foot space. 
A case also has the advantage that you can put comfortable sweatpants for the flight and some spare clothes for at least one day in it (I'm still waiting for the day when my big case gets lost) and it's so much more comfortable to wheeled case instead of a heavy handbag with you! 
---
---
6. Take an empty water-bottle with you!
Filled water bottles will not get through the security check but it's no problem to take an empty bottle with you. At many airpots, you have the possibility to refill them at free water dispensers in the departure hall instead of buying the expensive drinks from the shops.
Also for the flight, it's nice to have your own waterbottle with you just to be a little more independent from the cabin-service.  
7. Board the flight at the end of boarding time! 
Who board the flight first, will only sit for the longest time, waiting for everybody else to arrive. In my opinion: Complete nonsense! Get used to board the flight as one of the last passengers, you will have 2 benefits:
You do not sit there waiting for everybody else to get on board and you can directly have an overview, if there are still some better seats or also empty rows left. If nobody enters the airplane after you, you can be sure that the seat or row will stay empty and just switch to the better seat.
8. Take useful stuff in your hand-luggage.
In addition to my spare clothes, I take the following things: My tablet with some nice movies and great music, chocolate bars for hunger in between,  Ohropax*, a comfortable neck cushion*, a scarf against the aircon,  warm (traveling-)socks*, a sleeping mask*, toothbrush, candy for pressure compensation, a pen to fill out the visa form during the flight and my loved  SEA-BANDS against travel sickness.   (- find italian amazon links: Sea-Band
*,  Ohropax*, neck pillow*, warm traveling socks*, sleeping mask*)
More information about useful stuff you find in my pack-list here.
9. Provide for good nutrition and drink enough.
Make sure to have a full but not to greasy meal before the flight and do not underestimate the dry air during the flight. Also if you aren't thirsty, take every drink the cabin crew offers you, because your body will need it. One glass of wine to fall asleep easier is fine, but you should not take too much alcohol because it will be an additional burden to your body. 
10. Wear glasses instead of contact lenses. 
Better wear your glasses instead of contact lenses during your flight. Dry air can be very uncomfortable for your eyes and it's also useful to take eye drops with you. 
11. At the A380 airplane, choose seats in the Upper Deck.
One of my last long-distance flights I did with the A380 and I've to say: That was great - you have so much space! It's even more comfortable to choose a seat in the upper deck, because the cabin is much smaller, so it's quieter and you have even more space next to the window. 
Have a look on the pictures from one of my flights with the A380: 
---
*Affiliate Link
All links marked with the * are affiliate links. This means, I will get a small commission by amazon if you buy them. Don't worry because this is not combined with any additional costs for you. I do only recommend things that I am convinced of as well.